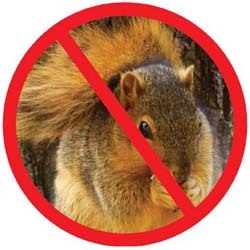 Squirrels can be rather destructive. They will wreck your feeders, scare off your songbirds, steal all your seed and laugh while doing so as you shake your fist in the air. For those of you who DISLIKE Squirrels and DISLIKE them ruining your wild bird feeding experience here are a few items for you!
The Wild Birds Unlimited Eliminator Bird Feeder has a Lifetime Guarantee, built with a polycarbonate tube, metal lid and skirt. This feeder has an adjustable tension to detour even the lightest of Squirrels. This feeder also detours black birds (grackles, crows, magpies) and whomever else you do not wish to feed.

Need to Baffle a pole? We have you covered!! Powder Coated Steel Baffle Available for Squirrels or Raccoons. This design is available in many shapes and sizes. Wrap arounds are used for poles already constructed, 4x4 baffles are used for wooden posts, and pole baffles can be used with our WBU Advanced Pole System available year round!
Don't Have a Pole? Just want to Baffle your Feeder?
Check This Out!

This WBU Squirrel Baffle is designed so you can use ANY feeder but still keep the Critter at bay.
Made with polycarbonate plastic, this item has a lifetime Guarantee.
(Item not identical to that of which in store)

Want to add some color to your yard? This fashionable Squirrel Baffle is Currently Available in Clear, Green and Red.

Feeding Suet? Here's a Hot Pepper Treat for the Birds that will have Squirrels running for the bird bath! Can be used in Summer as it is a No Melt Dough, good up to 54 Degrees Celsius.
Want to feed Peanuts but the Squirrel keeps eating them all? Here's the PERFECT solution for you!! A Squirrel Proof Peanut Feeder with Weight Tension Adjustment! Only $55.99 in store!

BRAND NEW AVAILABLE IN STORE NOW!
THE DROLL YANKEE FLIPPER AND TIPPER!!
REPELL SQUIRRELS WHILE ATTRACTING LAUGHS!