WBU Supreme Seed Tube Feeders:
Our Quick-Clean™ Seed Tube Feeders are the absolute easiest to clean feeders on the market. A quick press of two buttons and the base pops off for easy access. It attracts birds such as finches, nuthatches, chickadees and woodpeckers and comes with a lifetime guarantee against squirrel damage. These feeders come in several different sizes with many accessories available including trays and weather guards.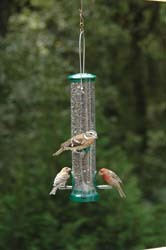 Hopper Feeders:
The WBU Classic and Classic Too are sleek looking feeders that come in either stained cedar or our Eco-tough Recycled material. The sides are curved to allow a better view of birds eating, are easy to fill, easy to clean. The Classic size comes with a removable mesh insert to keep seed dry and fresh. These feeders can be hung or pole mounted. We recommend our WBU Supreme, Deluxe or No-mess Blend to fill these unique feeders. The Eco-tough variety comes with a lifetime guarantee.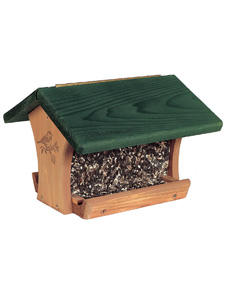 More on Eco-tough Materials:
Imagine a wood-free feeder that actually looks like wood! Eco-Tough feeders and houses are environmentally friendly, high quality products that are made from recycled plastic milk jugs. These feeders and houses prevent used milk jugs from making their way into our landfills.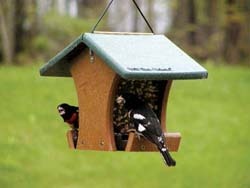 WBU Supreme Finch Feeders:
Finch feeders come in several varieties, including our new Quick Clean Bottom or lifetime guarantee Mesh Finch Feeders. Both will attract not just goldfinches, but also House and Purple Finch, Redpolls, and Pine Siskin's.

WBU Hummingbird Feeders:
Our famous WBU Hummingbird Feeders are a favourite with our patented bottom-feed design. Wasps cannot reach the nectar and ants are stopped by the built in ant-moat. These awesome looking feeders come in several different colours from red to purple to pink, and in three different sizes. They are also dishwasher safe and carry our WBU Lifetime Guarantee.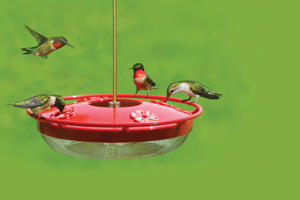 Oriole Feeders:
Try luring in orioles by slicing up oranges or other citrus fruits. Grape jelly or sweet jams are another way to bring orioles into your backyard. For the ultimate oriole feeding experience, try our WBU Oriole Feeder. This feeder includes a nectar reservoir, room for jam or jelly, and spike for halved oranges, and a built in ant-moat. Don't forget, this feeder is backed by our lifetime guarantee. To see these and other oriole feeders, stop by and talk to one of our Certified Birdfeeding Specialists.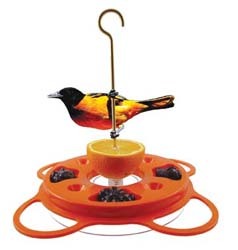 WBU Supreme Mesh Peanut Feeders:
Providing peanuts is a great addition to the choices you offer your backyard birds. Peanuts are a high-energy food and are enjoyed by a wide variety of birds such as woodpeckers, nuthatches, chickadees, jays and more. Many of their visits will be to carry peanuts off and cache them for a later meal.

You can attract those peanut-loving birds with our Small Mesh Peanut Feeder. Our Small Mesh Peanut Feeder is designed to hold skinless peanut halves. You can attach a tray to the bottom for a tidy solution, or just to watch more birds at a time. Also, for a little variety, try mixing in Bark Butter Bits along with peanuts to attract even more birds!! This easy-to-fill and easy-to-hang feeder is a breeze to use. Our lifetime guarantee on the feeder also covers squirrel damage. So if you want to start attracting jays, chickadees, nuthatches and woodpeckers — stop by Wild Birds Unlimited today and pick up your very own Mesh Peanut Feeder!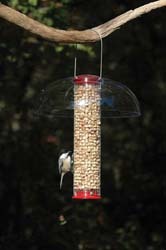 Squirrel Proof Feeders:
Try one of our squirrel proof feeders. We have several styles to choose from as well as many other options to baffle the squirrels. Our WBU Eliminator Squirrel Proof Feeder is a great way to go; its weight sensitive so when the squirrel jumps on it the feed ports close up. The tension can be adjusted to prevent birds like grackles from eating too. All the little birds can land and eat no problem. The Eliminator carries a lifetime guarantee, and is dishwasher safe! It is a great problem solver. Come in and talk to of our Bird-feeding specialist for more tips on keeping these critters out of your feeders. Remember, we also have solutions to feed the squirrels too, it is up to you!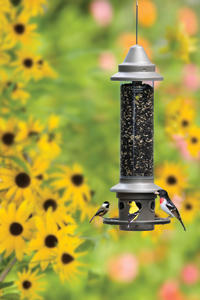 Specialty Feeders:
WBU Dinner Bell – This unique clear plastic feeder has an adjustable lid that lowers to keep out the birds you don't want, while catering to the birds you do. It is a perfect feeder for Bark Butter Bits, fruit, nuts, mealworms, or WBU Seed Cylinders! The Dinner Bell is well protected from the elements, keeping your seed high and dry, and with the clear material you can see birds wherever they sit! With a lifetime guarantee, this feeder also comes in new Eco-Clean material.
Seed Cylinder Feeder - Hang in there! The Hanging Seed Cylinder is a fun and inexpensive way to offer your favourite bird food in a new way. This feeder includes perches and a vinyl coating that makes it weather resistant. It caters to many types of birds, such as chickadees, nuthatches, woodpeckers and more!
Window Feeders:
Get up close and personal with the birds in your backyard. Our WBU Window Feeder brings birds so close it feels like you could almost reach out and touch one! Great for blends, peanuts and nectar, these durable feeders attach right to your windowpane with suction cups. Easy to fill, easy to clean and carries our lifetime guarantee.